Breanna Coursey
Director of Student and Employer Engagement
Office of the Associate Dean for Academic Affairs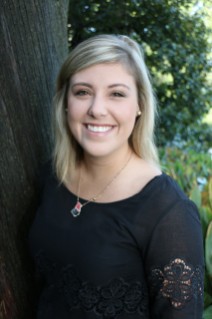 Q&A with Breanna
What do you do at CAES?
I serve as the Director of Student and Employer Engagement. What this really means is I help students with their transition to UGA from application to acceptance, and work with them to ensure they have a positive experience in CAES. I recruit students for all CAES programs and for each CAES campus in Tifton, Griffin, and Athens. I also engage with agriculture companies and businesses to ensure students have internships and job opportunities with they graduate. Daily, I can be found meeting with prospective students about CAES programs, traveling with ambassadors to recruitment events, speaking in schools, coordinating internships for current students, working with the career center, and meeting with potential employers for our graduates.
How do you interact with students and improve student life in CAES?
Student interaction is my favorite part of my job. While I interact with potential students at the beginning of their UGA journey, I also advise our student ambassadors and help students find internships and secure employment after graduation. Ambassadors are students on campus who serve as liaisons between potential students and the college. During their time of service, they are engaging in professional development they are able to practice through their duties as ambassadors. Leadership skills are developed in addition to building their resume for job opportunities after graduation. I am also the advisor for Ag Hill council and coordinate monthly meetings called S.L.I.C.E (Student Leaders Interested in Career Exploration). 

What is your favorite thing about CAES?
My favorite part of CAES is that we love our students and want to help them succeed. We have such a rich, deep-rooted history of academic excellence all over the world. I love being able to talk with students about the quality of education they are earning from this university and specifically CAES. If you enjoy hands-on learning, there's nothing like seining a pond in aquaculture class to learn about the different varieties of fish. Aside from the in-class activities, you are learning from professors who are also scientists. They are conducting research that is used all over the world and developing cutting-edge technology that is being used in industry. There is no better career preparation.