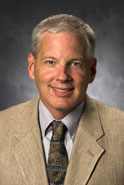 J. Scott Angle
Scott Angle is a former dean and director of the University of Georgia College of Agricultural and Environmental Sciences. He is a world renowned soil scientist and an expert in phytoremediation -- the process of decontaminating soil or water by using plants and trees to absorb or break down pollutants.
Area of Expertise: Air/ Water Quality, Environmental Science, Sustainable Agriculture, Agronomics
This Expert's Stories
About the Newswire
Formerly referred to as FACES, our media newswire continues to feature stories from the CAES news team relating to family, agricultural, consumer and environmental sciences, as well as UGA Extension news.
Subscribe