Water Conservation and Drought
Water and the many issues and concerns that surround it continue to swirl in political, agricultural and economic circles. When drought conditions hit, the value of water becomes even more urgently evident.
The UGA College of Agricultural and Environmental Sciences looks at the many prisms of water in all of its programs of teaching, research and Extension. Scientists measure it, predict it, protect it and study it. County Extension agents educate farmers, homeowners, 4-H'ers, community leaders and businesses through workshops, activities and projects. Professors also put students to work learning all they can about this irreplaceable resource.
Current resources:
Water at UGA Blog

Flow Rate Calculation in a Small Stream
Posted by

Gary Hawkins

on May 19, 2018
Are you smarter than a freshman?  See if you know how to calculate the flow of a stream in the Question provided.
Regulations in California concerning Toilet-to-Tap Wastewater Recycling
Posted by

Gary Hawkins

on Jan 29, 2018
We are hearing about water shortages in all parts of the country from the droughts in Georgia to the droughts in California and the drawdown of aquifers across the country.  In the January 2018 issue of the Onsite Installer magazine, there is a Rules and Regs update from across the...
Cold Weather and Frozen Pipes
Posted by

Gary Hawkins

on Jan 29, 2018
How do you deal with frozen pipes?  Here is a story that provides some information on dealing with pipes after they freeze.  Hopefully we will not have any or much more freezing temperatures, but just in case here is a story from Onsite Installer magazine.
---
More Posts From the Blog
UGA Extension Climate Blog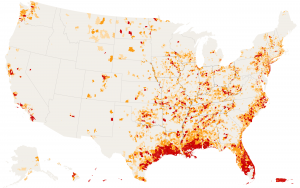 New York Times: Where the most disasters have occurred (map)
Posted by

Pam Knox

on May 26, 2018
The New York Times published a really interesting story and map of where repeated disasters have occurred across the US from 2002 to 2017, as measured by zip codes where federal disaster assistance has been provided. You can read the story here. One of the things that I find interesting...
---
More Posts From the Blog